Continued from Part 1
We have been looking at the steps to cultivating a closer walk with God. In our last article we looked at 'Recognising the Centrality of the Word of God'. Here we look at the other steps in cultivating a closer walk with God.
2. Cultivate a real relationship with the Holy Spirit
Even in the circles where God is given His rightful place, I have noticed how very little credit is given to the Holy Spirit. I guess we cannot handle it when we hear the Word say, 'He will not speak of Himself' and 'whatever Jesus says He will bring to our remembrance' etc. In John 14: 16 Jesus did some elaborate teaching on the Holy Spirit as our comforter, helper, standby, advocate etc. He is the One that brought us the conviction to receive Jesus as our Lord and Saviour. His presence in our lives helps us to discern good from evil. He is God the Holy Spirit, sent to be with us and He will never leave us. He represents Jesus in our lives today. He teaches, instructs, guides, helps and strengthens us. All we need to do is acknowledge Him, listen to Him and obey Him. He also helps us in worship, grants us revelation of truth and leads us into God's perfect will.
The grace of our Lord Jesus Christ, the love of God and the fellowship of the Holy Spirit be with you all. It is the fellowship (Gk. Koinoma) of the Holy Spirit that has been least emphasised. He has been called alongside to help us. Let us allow Him.
3. Create time for worship and intimate communion with God
Enter into his gates with thanksgiving, and into his courts with praise: be thankful unto him, and bless his name. (Ps lOO:4)
For there to be intimacy with God we need to remember how Isaiah said "woe is me…" when he saw the glory of God filling the temple. We need to be quick to repent, not for acceptance but for depth of communion. Most of the time our lifestyles crowd out the things of God, like love and sensitivity of heart, from our lives. We need repentance, not just to turn from sin, but to turn to God in our hearts.
This prepares our hearts for communion with God.
Intimacy: look - into – me - and - see. We need to see what is in His heart. He is usually interested in us becoming yielded to Him for Him to fill us with Himself and bring us to think His thoughts, speak His words and act in obedience to Him with motivations that please Him. We measure worth to Him in worship. Worship is more than singing. It is a heart's response to His love, presence and mercy.
4. Prayers
"I exhort therefore, that, first of all, supplications, prayers, intercessions, and giving of thanks, be made for all men; For kings, and for all that are in authority; that we may lead a quiet and peaceable life in all godliness and honesty." (1 Tim 2:1-2)
So many times we fail to put first things first in our prayers. Prayer for those in authority is a recommended first in all our prayers. We all desire to live a quiet life in all godliness and holiness. We have been told how. Pray for those in authority - for all men. That means your spouse, children, neighbours also. We need to pray in line with scriptures. It is safe to say that if we pray according to His Word, we are praying according to His will. 1 John 5:14-15 "Now this is the confidence that we have in Him, that if we ask anything according to His will, He hears us. And if we know that He hears us, whatever we ask, we know that we have the petitions that we have asked Him."
These scriptures are helpful in praying for family members that are about to come into the knowledge of salvation:
2 Cor. 4:3-4 "But even if our gospel is veiled, it is veiled to those who are perishing, whose minds the god of this age has blinded who do not believe, lest the light of the gospel of the glory of Christ, who is the image of God should shine on them."
1 Tim 2:3-4 "For this is good and acceptable in the sight of God our Saviour, who desires all men to be saved and to come to the knowledge of the truth."
Acts 16:3 1 "So they said, 'Believe on the Lord Jesus Christ, and you will be saved, you and your household."
For yourself and loved ones:
Eph 1:16-23 "Do not cease to give thanks for you, making mention of you in my prayers: that the God of our Lord Jesus Christ, the Father of glory, may give to you the spirit of wisdom and revelation in the knowledge of Him, the eyes of your understanding being enlightened; that you may know what is the hope of His calling, what are the riches of the glory of His inheritance in the saints, and what is the exceeding greatness of His power toward us who believe, according to the working of His mighty power which He worked in Christ when He raised Him from the dead and seated Him at His right hand in the heavenly places, far above all principality and power and might and dominion, and every name that is named, not only in this age but also in that which is to come. And He put all things under His feet, and gave Him to be head over all things to the church, which is His body, the fullness of Him who fills all in all."
Eph 3:14-20 "For this reason I bow my knees to the Father of our Lord Jesus Christ, from whom the whole family in heaven and earth is named, that He would grant you, according to the riches of His glory, to be strengthened with might through His Spirit in the inner man, that Christ may dwell in your hearts through faith; that you, being rooted and grounded in love, may be able to comprehend with all the saints what is the width and length and depth and height — to know the love of Christ which passes knowledge; that you may be filled with all the fullness of God. Now to Him who is able to do exceedingly abundantly above all that we ask or think according to the power that works in us."
Col 1:9-11 "For this reason we also, since the day we heard it, do not cease to pray for you, and to ask that you may be filled with the knowledge of His will in all wisdom and spiritual understanding; that you may walk worthy of the Lord, fully pleasing Him, being fruitful in every good work and increasing in the knowledge of God; strengthened with all might, according to His glorious power, for all patience and longsuffering with joy;"
Read Psalm 103 and Psalm 91
5. Stay sensitive to God, your heart and others
Your lifestyle carries within it what your future will be. Your words, thoughts and actions need to be disciplined in sensitivity. We err too soon with our words (James 3).
God also weighs our actions (1 Sam 2:3) "Talk no more so very proudly; let no arrogance come from your mouth, For the Lord is the God of knowledge; and by Him actions are weighted."
Our thoughts are the battleground for evil and good. We have not been aware that these things affect the quality of our fellowship with God and hence the quality of our lives individually. Let your thoughts, word and actions line up with God's Word. You will have to exercise your faith to walk in obedience in these areas. Unbelief, doubt, fears and filth all spew out of our mouths because of the abundance of these things in our hearts. God's commandments are not grievous, they are for our good. Stay in love in your heart. Stay full of God's Word and generate hope with your words. Be sensitive anytime the Holy Spirit in you stirs your heart towards obedience to the perfect law of liberty as James 1 calls God's laws of the heart. The New Testament laws are primarily laws that govern our hearts. They are to get our hearts in love toward God as we reverence Him and walk in the fear of the Lord. They also help us to stay sensitive to our hearts as the Holy Spirit nudges us inside to read the Word, walk in love, stay humble, stay sincere and speak in accordance with His Word in our hearts. The reason we feel low sometimes is because we have disobeyed the law of liberty — the law of the heart.
We need to stay sensitive to the needs of others around us. So many times, peoples' needs are avenues around us to demonstrate God's love to others. 'God blesses the good and evil, and He wants us, His children, to be like Him in blessing others. When you respond to others' needs, you allow God's provision to flow towards you to continue meeting the needs of others.
To be continued…
The Lord Bless and keep you!
God's Servant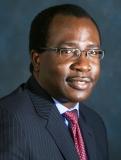 Rev. Kola Ewuosho



---------------------------------------------------------------------
Please visit our various websites for further studies, view/listen to clips of our latest messages and order products online. You can also refer your friends to our websites:
www.fowm.org
www.cybermessages.info
www.dtnbroadcast.org
www.kolaewuosho.com
www.wisdomestore.com
Streaming Faith Network
[B]