The Lord Jesus said in Mathew 16:19 "And I will give unto thee the keys of the kingdom of heaven". Key in this context connotes the solution to a problem or a mystery. Giving can be seen as one of the kingdom keys that can be used to unlock the doors of blessing.
Giving is not seasonal, it is all the time. If you want a continuous harvest, you must be involved in continuous sowing. The Bible says in Gen. 8:22 that "while the earth remaineth, seedtime and harvest…shall not cease."
Proverbs 18:16 says "A man's gift maketh room for him, and bringeth him before great men." The above scripture has been given numerous applications. The main scriptural interpretation has to do with the giving of gifts or presents. It means when a man gives gifts, doors are opened to him and he comes in contact with great men.
Prov. 17:8 says "A gift is as a precious stone in the eyes of him that hath it, wither so ever it turneth, it prospereth." This means that your gift must be precious in your sight. You should not give a gift that is not important to you, it must cost you something. God the greatest giver demonstrated this by giving us His best; the Lord Jesus Christ. The Bible says in John 3:16 that "for God so loved the world, that He gave His only begotten Son". Note here that God's motive for giving was love which shows the attitude that should dictate giving. He loved and He gave.
When it comes to giving, our attitude must be right. It is usually said that your attitude will determine your altitude in life. David said in II Sam. 24:24b that he would not offer burnt offering unto the Lord his God of that which costs him nothing. He valued God so much and measured worth to him that he would not offer anything for free - no wonder he had great favour with the Lord throughout his lifetime! John 12:3-8 talks about Mary anointing Jesus with a very costly ointment. Her attitude behind the deed was that of love and reverence for her Lord. She did not use just any ointment but a very costly one.
Giving wins favour for us when done rightly. Prov. 21:14 says "A gift in secret pacifieth anger". This brings to mind the story of Esau and Jacob. When Jacob learnt that Esau his brother was coming to meet him, he was greatly afraid because of the situation that had happened in the past which had brought enmity between them. So Jacob sent a lot of gifts ahead of him to Esau and when they finally met, they reunited. Esau refused to take the gifts, saying that he had enough but Jacob pressed him until he took them. His gifts made room for him Gen. 32 & 33:1-16.
In Deuteronomy 16: 16b there is a command not to appear before the Lord empty-handed, which still applies to us today. We must honour the Lord with our giving and it must not be the things that are not precious in our sight. We must seek to always give our best in everything. Many times also, your giving shows the kind of person you are, because your attitude will say it all. In the case of Cain and Abel (Gen. 4:1-14) God had respect unto the offerings of Abel because his attitude was right. The Bible says in Gen 4:4, "And Abel, he also brought of the firstlings of his flock and of the fat thereof." He gave the Lord his choicest offering. In verse 3, it says that Cain brought of the fruit of the ground an offering to the Lord. It wasn't a choice offering he gave to the Lord. The Bible says God is a God of knowledge by whom actions are weighed. He knows our hearts and sees the attitude and motive behind every giving. The Bible says God loves a cheerful giver. It is important to know that all giving should be willingly and cheerfully done. Some giving is sacrificial and the Bible says that "he that goes forth weeping bearing the seed for sowing shall come home with shouts of joy, bringing his sheaves with him". (Ps. 126:6). The giving of Christ was sacrificial because He was precious in God's sight. God did not give an angel, He gave His very best. This should be our attitude as well. We should always aim at giving our best.
The Lord Bless and keep you!
God's Servant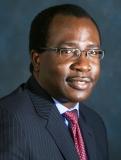 Rev. Kola Ewuosho



---------------------------------------------------------------------
Please visit our various websites for further studies, view/listen to clips of our latest messages and order products online. You can also refer your friends to our websites:
www.fowm.org
www.cybermessages.info
www.dtnbroadcast.org
www.kolaewuosho.com
www.wisdomestore.com
Streaming Faith Network