"I have been crucified with Christ; it is no longer I who live, but Christ lives in me; and the life which I now live in the flesh I live by faith in the Son of God, who loved me and gave Himself for me." (Gal. 2:20) This verse tells me that God expects me to live my life on earth by faith in Christ. It is obvious that if we are going to make it as Christians in this world, we are going to have to live by faith (not in ourselves, not in the world's system or in any other thing) in Christ Jesus! "For whatever is born of God overcomes the world. And this is the victory that has overcome the world – our faith. Who is he who overcomes the world, but he who believes that Jesus is the Son of God?" (1 Jn. 4:4-5) I believe it is time to revisit the subject of faith, in spite of the abuses that have gone on on the same, after all we cannot throw away both the baby and the bath water. The Bible says, without faith it is impossible to please God (Heb. 11:6) and "by it the elders obtained a good testimony" (Heb. 11:2). I think the reason why good testimonies are getting harder to come by in these days is because a lot of Christians have lost touch with the genuine faith life! (1 Tim. 1:5, 19) . We need to go back to the basics of living by faith in Jesus Christ. The Bibles says "The just shall live by faith" (Rom. 1:17, Heb. 10:38, Gal 3:11) and in Habakkuk 2:4 "The just shall live by his faith." This tells me, first and foremost, that faith is meant to be the lifestyle of the believer, not what we do now and then or a panic button we press when we are in trouble. As a matter of fact, I suggest that if you haven't been living by faith before trouble comes, don't try to! If David had not killed the bear and the lion, it would have been presumptuous of him to try to take on Goliath. What you do at such a time is to ask around for prayers to get out of the trouble and then you can start building your faith. "He will not be afraid of evil tidings; his heart is steadfast (i.e. fixed), trusting in the LORD. His heart is established; he will not be afraid…" (Ps. 112:7-8) This implies your heart must have been fixed before the evil tidings come, that is the only guarantee that you won't be afraid. "In righteousness you shall be established; you shall be far from oppression, for you shall not fear; and from terror, for it shall not come near you" (Ish. 54:14). All that stems from having been already established. I need to quickly say that one way to get your heart fixed or established is by studying and meditating in the Word of God. "But his delight is in the law of the LORD, and in His law he meditates day and night. He shall be like a tree planted by the rivers of water, that brings forth its fruit in its season, whose leaf also shall not wither; and whatever he does shall prosper." (Ps. 1:2-3)

Now, what does living by faith mean in practical terms? I will try to explain this under five headings.

Living by faith means:

1. Living by the Word of God
"Man shall not live by bread alone, but by every word that proceeds from the mouth of God." (Matt. 4:4) Did you notice it says "every word", not just a few words or favourite words and "proceeds" not proceeded? We must live by every Word that proceeds from God's mouth. What does it mean to live by the Word of God? I suppose it means, among other things, having one's life regulated, controlled and sustained by the Word of God. It means lining up your life with the Word of God. Somebody said, faith isn't faith until it affects your daily thinking, speaking and conduct.
Living by every Word of God is, acting on it in spite of contrary evidence or what others might be saying. For example, God told Noah to build an ark when it had never rained before and he did it. (Gen. 6:14) Faith is having your life sustained by God's Word. Peter walked on water because Jesus asked him to come. That word sustained Peter's weight on water until he began to doubt and be afraid. (Matt. 14:28-31) Abraham left his country, his family and his father's house to go to an unknown land because God said so. And that Word sustained him all through! Elijah was told by God to go to the brook Cherith and then to the Widow in Zarephath and he was sustained throughout the famine period.
(1 Kings 17:8-15)
If you would live by every word that that proceeds out of God's mouth, you will have food on your table, money in your pocket and your future will be guaranteed! You can literally live by the Word God speaks to you. Jesus demonstrated during the temptations, that His life was regulated and controlled by God's Word. He showed that the Word of God was the final authority in His life. He said repeatedly to the devil, "It is written" (Matt. 4:4,7,10). The Word of God created such a boundary around His life, which Jesus wasn't going to cross even when He was hungry! The Bible says "where there is no vision the people perish" (Pr. 29:18 KJV) or "the people cast off restraint" (NKJV) or "they run wild" (NLT). The life of faith is a disciplined lifestyle.

2. Believing what God says to you
Ordinarily, to believe simply means "to accept as true or conveying truth". God said to Abraham that his descendants shall be unaccountable when as yet he had no child. The Bible says he believed God and God counted it to him for righteousness. (Gen. 15:16) To believe God means to accept His Word as true – whatever He says to you or about you and to be persuaded that God's Word is true. It also means to agree with God and His Word. When Mary was told by angel Gabriel that she was going to be the mother of the Lord, she answered the angel "Behold the maidservant of the Lord! Let it be to me according to your word" (Luke 1:38). "Stop quarrelling with God! If you agree with Him, you will have peace at last and all will go well for you" (Job. 22:21 NLT). Jesus would ask someone in need of a miracle, "Do you believe I am able to do this?" (Matt. 9:28) He said to Jairus, "Don't be afraid, only believe" when they told Jairus that his daughter was already dead. (Mk. 5:36) Elizabeth, filled with the Holy Spirit said, "Blessed is she who believed, for there will be a fulfillment of those things which were told her" (Lk. 1:45). Jesus said "If you can believe, all things are possible to him who believes" (Mk. 9:23). He also said certain signs will follow those who believe the Word of the Gospel. (Mk. 16:17-18).
To be Continued

God bless you!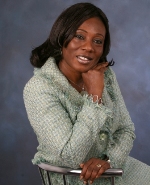 Rev. Funke Ewuosho

---------------------------------------------------------------------
Please visit our various websites for further studies, view/listen to clips of our latest messages and order products online. You can also refer your friends to our websites:

Fountain of Wisdom Ministries
Wisdom Life Training Center (Bible School)
CyberMessages
Discipling the Nations Broadcast
Wisdom E-Store
Streaming Faith Network
FOWM Podcast
Live Radio Webcast
Live TV (Video) Webcast