3. Trusting God
Trust means 'firm belief in the reliability of truth, strength, etc of a person or thing; also, the state of being relied on. Trusting God therefore means, relying on and depending on Him. It implies putting one's entire weight on Him; abandoning oneself on Him completely and committing oneself totally to God. Somebody said, living by faith is like jumping from a high rise building believing that before you land on the ground, there would be a swimming pool or something to cushion or catch your fall. It's putting yourself in a place where if God didn't catch you, you would fall; if He didn't help you, you would fail. "Heal me, O LORD, and I shall be healed; save me, and I shall be saved, for You are my praise." (Jer. 17:14) Believing God and His Word will lead you to trusting Him. You don't rely on what someone says if you didn't believe in what they said in the first place! The Bible says "It is impossible for God to lie" (Heb. 6:17) and in Numbers 23:19-20 "God is not a man, that He should lie. He is not a human that He should change His mind. Has He ever spoken and failed to act? Has He ever promised and not carried it through?" (NLT) "Let God be true and every man a liar." (Rom. 3:4) The Apostle Paul was one man who trusted absolutely in God. He said "Yes, we had the sentence of death in ourselves, that we should not trust in ourselves but in God who raises the dead, who delivered us from so great a death, and does deliver us; in whom we trust that He will still deliver us" (2 Cor. 1:9-10) God not only has a desire to do what He says, but He has the ability to do so. Sometimes, friends want to help but might still fail – the Bible says that the arm of flesh shall fail. I tell people that, when dealing with God, it is okay to put all your eggs in one basket – in fact, that is the only way to deal with God acceptably. "For the eyes of the LORD run to and fro throughout the whole earth, to show Himself strong on behalf of those whose heart is loyal to Him" (2 Chron. 16:9) or "whose hearts are fully committed to Him" (NLT). (See also Hebrews 11:6.) Do you know that Jesus went to the cross fully trusting God to raise Him up from the dead? "For You will not leave my soul in Sheol, nor will You allow Your Holy One to see corruption." (Ps. 16:10) Romans 8:11 also tells us that God was the one who raised Christ from the dead. The truth is, if you can't trust God to keep His Word to you here on earth, I wonder how you could trust Him with your eternal destiny!

4. Not walking by sight
Faith is a supernatural force. It deals with the supernatural. When things don't make sense, they can make "faith". "For we walk by faith not by sight." (2 Cor. 5:7) "That is why we walk by believing and not by seeing" (NLT). Note that here, 'sight' refers to physical sight. Jesus told Thomas "Because you have seen me, you have believed. Blessed are those who have not seen and yet have believed" (John 20:29). The Bible says, "faith is the substance of things hoped for, the evidence of things not seen" (Heb 11:1) or being "certain of what we do not see" (NIV). We don't see them with our physical eyes because they exist in another realm – a realm that can't be accessed by the natural or physical senses. The Bible talks about the mature, who have their senses trained to discern both good and evil (Heb 5:14). It seems to me that every one of our five physical senses (i.e sight, taste, touch, smell and sound) has its spiritual equivalent. The Bible says that Moses endured or persevered because he saw Him who is invisible (Heb 11:27). You can't see something which is invisible with your physical eyes, can you? Remember when Elisha asked God to open the 'eyes' of his servant to see that those who were with them were more than those who were against them? (2 Kings 6:17) The Syrian army had come to capture them but in the realm of the spirit they were surrounded by hosts of angels. The Bible says that God will give His angels charge over us to keep us in all our ways (Ps. 91:11). We might not see them but they are there, praise God! Moses endured because he saw Him who is invisible. Jesus endured the cross, despising the shame, because He saw the joy set before Him (Heb. 12:2). Abraham didn't waver at the promise of God through unbelief because he did not consider his dead body and the deadness of Sarah's womb (Rom. 4:19-21). He kept his eyes on the promise and the One who had promised. Focus produces strength; what are you focused on? Elijah said to Ahab, "I hear the sound of the abundance of rain" (1 Kings 18:41) He wasn't speaking from the natural stand point because, after saying that, he went to pray earnestly for the rains to fall. God said He had given to Abraham and his descendants all the land which he saw (Gen. 13:14-15). You cannot possess beyond what you can see or envision with your spiritual eyes. There is a limit to what you can see with your physical eyes and that can limit you in your walk with God. Also , more often than not, what we see with our physical eyes can be so discouraging or daunting, that we would need to switch to the invisible realm. In the physical, Abraham could only see his dead body and Sarah's dead womb; Elisha's servant could only see the Syrian army and he knew that he and his master were no match for them. How much we need our spiritual glasses!

5. Be hopeful
"Faith is the substance of things hoped for" (Heb 11:1) Hope means, a favourable and confident expectation. It has to do with the unseen and the future -"But hope that is seen is not hope; for why does one still hope for what he sees? But if we hope for what we do not see, we eagerly wait for it with perseverance." (Rom. 8:24-25). Hope describes; the happy anticipation of God, the ground upon which hope is based ("Christ in you, the hope of glory" Col. 1:27) and the object upon which hope is fixed (i.e. the Lord Jesus Christ Himself, 1 Tim 1:1). The Bible says Abraham hoped against hope, so he became the father of many nations (Rom 4:18 KJV). That is, he hoped against natural hope. There is natural hope and there is supernatural hope! For example, when a man's body is dead sexually and the woman's womb is dead, there can be no hope in the natural that they can still have a baby. If they would have any hope at all, it must be supernatural. That kind of hope can only be based on the Word of God, not on anything in the natural! "For whatever things were written before were written for our learning, that we through the patience (perseverance) and comfort of the Scriptures might have hope." (Rom. 15:4). As you focus on God's Word the Holy Spirit injects you with hope. "May the God of hope fill you with all joy and peace as you trust in him, so that you may overflow with hope by the power of the Holy Spirit." (Rom. 15:13) That hope becomes an anchor for your soul (Heb. 6:19) in the storms of life and in the face of contradictory evidence. The Bible says that we should rejoice in hope of the glory of God and hope does not disappoint us because of the love of God. (Rom. 5:2,5) God is truly a God of hope. Satan is the author of hopelessness. Even in the gloomiest and darkest hour, God's Word still brings hope to us. When Adam and Eve fell and right in the midst of the curse, God still brought a message of hope to them – the seed of the woman was going to come and bruise the head of satan (Gen. 3:15). The Bible says God subjected the whole creation to bondage in hope of deliverance and we were saved in this hope (Rom 8:20-24) Paul prayed that the saints in Ephesus may know what is the hope of God's calling (Eph. 1:18), that is, "the prospect before those who respond to His call in the Gospel." Christ in you, the hope of glory. "Moreover whom He predestined (i.e. to be conformed to the image of Christ,) these He also called, these He also justified, these He also glorified" (Rom. 8:30). I don't think this is about the sweet by and by, I think it is about now! Because Jesus, before He went away, said to the Father "And the glory which You gave Me I have given them, that they may be one just as We are one" (Jn. 17:22) The life of faith is a life of joyful expectation of good and not evil. God says His plans for us are not for evil but for good, to give us a future and an expected end! (Jer. 29:11). In conclusion, living by faith is living a life of obedience to God which is made possible by; committing to His Word, believing His Word, trusting in Him, not walking by sight and expecting His Word to be fulfilled in our lives.

God bless you!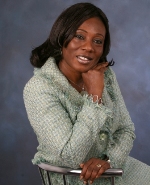 Rev. Funke Ewuosho

---------------------------------------------------------------------
Please visit our various websites for further studies, view/listen to clips of our latest messages and order products online. You can also refer your friends to our websites:

Fountain of Wisdom Ministries
Wisdom Life Training Center (Bible School)
CyberMessages
Discipling the Nations Broadcast
Wisdom E-Store
Streaming Faith Network
FOWM Podcast
Live Radio Webcast
Live TV (Video) Webcast