What are you becoming? Faith does not focus on where it is right now or what it is going through, but on what it is becoming! The Apostle Paul said "we are hard-pressed on every side, yet not crushed; we are perplexed but not in despair. Persecuted but not forsaken; struck down but not destroyed". (2 Cor. 4:8-9) Could you imagine what Paul must have been through? Is it possible to be hard-pressed and yet not be crushed? Yes! The Bible says "A merry heart does good like medicine, but a broken spirit dries up the bones" (Prov. 17:22) and also, "The human spirit can endure a sick body but who can bear it if the spirit is crushed." (Prov. 18:14 N.L.T) Job's story comes to mind; in all that he went through, we were told he did not sin nor charge God with wrong (Job 1:22). The Bible talks about the patience of Job: "Indeed we count them blessed who endure. You have heard of the perseverance of Job and seen the end intended by the Lord" (James 5:11). The Bible says the testing of our faith works patience and when we allow patience to run its full course, we become mature and complete, lacking nothing (James 1:1-4). We are to imitate those who through faith and patience inherit the promise. (Heb 6:12) A lot of people talk about faith but very few talk about patience. Notice, it isn't faith or patience, it is faith AND patience! "Therefore do not cast away your confidence, which has great reward. For you have need of endurance, so that after you have done the will of God, you may receive the promise". (Heb 10:35-36) This tells me that one reason why people don't inherit the promise is the lack of patience. Paul said "We are perplexed, but we don't give up and quit." (2 Cor. 4:8 NLT)

Do you feel forsaken when going through persecution? The fact that you are going through persecution or a rough patch does not mean God has left you. He said He will never leave you nor forsake you. (Heb 13:6) He said, even if a mother could forget her nursing child, He will not forget you because you are inscribed on the palm of His hands (Is 49:15). Do you remember Joseph? He was stripped of his coat of many colours and sold as a slave by his brothers; yet the Bible says "The Lord was with Joseph and he was a successful man; and he was in the house of his master the Egyptian" (Gen 39:2). Joseph was thrown into the prison for an offence he didn't commit; "But the LORD was with Joseph and showed him mercy, and He gave him favour in the sight of the keeper of the prison." (Gen 39:21) Didn't Jesus say we would have a hundredfold in this life whatever we give up for His sake and the gospel's "with persecutions" (Mark 10:29,30). Paul said "We are hunted down, but God never abandons us. We get knocked down, but we get up again and keep going." (Cor 4:10 NLT) It is indeed possible to be struck down yet not destroyed! "For a righteous man may fall seven times and rise again." (Prov 24:16) Truly, tough times don't last but tough people do! Joseph kept going in spite of all the set-backs he suffered. The Psalmist said "Many are the afflictions of the righteous, but the LORD delivers him out of them all." (Ps 34:19) Not just out of some of them, but out of them all! Hallelujah! Another exciting thing about that also is that by the time the deliverance comes, one would not be the same. This was what James meant when he said we would become mature, lacking nothing!

I remember what God said to me when we were in the process of relocating to the United Kingdom in year 2000. He said though in the natural, it looked like the same scenario when I moved to Kano, Nigeria in 1988, in the spirit it was different. I had acquired a greater stature in the spirit over the twelve years of living and doing ministry in the 'wilderness' of Kano! "For when your faith is tested, your endurance has a chance to grow! So let it grow, for when your endurance is fully developed, you will be strong in character and ready for anything." (Jas 1:3,4 NLT) God told me that because of my new level of maturity, I will find myself walking in a new level of authority. That is, what took me many years to accomplish in my past, would be accomplished in a shorter time. And that was what we experienced as we came into our new place of assignment.

A lot of folks want to be strong in authority, influence and dominion without being strong in character. It is actually a recipe for casualty. Authority must always be backed up with character, like the gold backs up the money! You cannot legitimately and safely walk in greater authority than your character level! The sons of Sceva saw how God worked unusual miracles by the hands of Paul and so they "took it upon themselves" to cast our demons from people in the name of Jesus "Whom Paul preaches" "And the evil spirit answered and said, Jesus I know, and Paul I know but who are you?" They were attacked and overpowered by the demon possessed man! The Bible says "they fled out of the house naked and wounded" (Acts 19:13- 16).

The Bible says John the Baptist "grew and became strong in spirit and was in the deserts till the day of his manifestation to Israel" (Lk 1:80) At the baptism of Jesus, when He came out of water the Holy Spirit descended on Him and being filled with the Spirit, He was led by the Spirit into the wilderness. He was in the wilderness for forty days. Jesus passed His tests and the Bible says He returned "in the power of the Spirit to Galilee and news of Him went out through all the surrounding region" (Lk 4:1,14). One could see the development of character even in the Christ as the pattern Son. Jesus submitted to John's baptism. He submitted Himself to His earthly parents – He was even called "the Carpenter's son" (Mt 13:53) and sometimes "the Carpenter" (Mk 6:3). Jesus submitted Himself absolutely to the Father's will. The Bible says, He was faithful as a Son over His own house (Heb 3:6) and though He was a Son, He learnt obedience by the things which He suffered (Heb 5:8). He made Himself of no reputation, took the form of a servant and came in the likeness of men, He humbled Himself and became obedient even to the point of death. "Therefore God also has highly exalted Him and given Him a name which is above every name" (Php 2:6-9). Jesus walked in unparalleled authority in His earthly ministry. The Centurion recognised this authority; he said to Jesus "Lord, I am not worthy that You should come under my roof. But only speak a word and my servant will be healed" (Matt 8:8). The secret of that authority is in Jesus being a Man under authority Himself. The Centurion said "I also am a man under authority, having soldiers under me. And I say to this one "Go" and he goes, and to another, "Come" and he comes, and to my servant "Do this" and he does it." (Matt 8:9) You can't exercise authority effectively if you are not under authority yourself. You must therefore, put yourself under the authority of God through His Holy Spirit and the Word, and under every authority God has placed in your life.

Why would the evil spirit not obey the sons of Sceva? Among other reasons, I found one in the King James' Version of that story. "Then certain vagabond Jew exorcists, took it upon them". (Acts 19:13) They were called vagabond, which in the Greek means "to go about, to go around, or to wander" God told Cain after he had killed his brother, "A fugitive and a vagabond shalt thou be in the earth". (Gen 4:12 KJV) There is indeed the Cain spirit that drives people to be on the move always. They never stay anywhere or in any relationship or with any thing long enough to develop character. The Bible says no discipline seems to be joyful for the present but painful; nevertheless afterward it yields a peaceable fruit of righteousness to those who have been trained by it (Heb 12:11). That is, we can stay under discipline long enough to be trained by it. Have you ever heard the expression: "If you can't stand the heat, get out of the kitchen"? That kind of an expression encourages a vagabond spirit. What would have happened if Joseph said he could no longer stand the heat in Potiphar's house or in the prison and he got out before Pharaoh sent for him? What of Daniel? In the case of the three Hebrews, Nebuchadnezzar commanded that the fire be made seven times hotter! (Daniel 3:19). This is why oftentimes destinies are aborted. People even say "Go to where you are celebrated not tolerated". A lot of destiny-aborting, purpose-destroying slogans fly around to mould people's mentality and therefore derail and destroy their future. Jesus "for the joy that was set before Him endured the cross, despising the shame and has sat down at the right hand of the throne of God" (Heb 12:2) There can't be the crown or the glory, without the cross. It was after He had humbled Himself to the death on the cross, that Jesus was raised up to the highest place and given a name that is above every name. Without death, there can be no resurrection. God would not have sent His angel to shut the mouth of the lions, if Daniel had shrunk away from being thrown into the lion's den. The fourth Man would not have appeared in the fiery furnace if the three Hebrew guys had played the cowards! What if Esther had refused to go to the king? Notice that in addition to our character being developed, three things would usually happen when people put their lives on the line for the Lord's sake and His Kingdom's: One, God defeats the enemy; two, God's Kingdom is advanced; and three, God's people are promoted, especially those who had risked their lives or reputation.

You should make the devil sorry for ever attacking you! If they had known they would not have crucified the Lord of Glory! (1 Cor 2:8) All things work together for the good of those who are called according to His purpose. Joseph told his brothers: "You meant evil against me, but God meant it for good in order to bring it about as it is this day, to save many people alive" (Gen 50:20). That is what I would call, "Destiny Fulfilled". It doesn't matter what you go through to fulfil destiny, you will have a sense of fulfilment when destiny is fulfilled. Jesus told His disciples that their sorrow will be turned into joy; "A woman, when she is in labour, has sorrow because her hour has come but as soon as she has given birth to the child, she no longer remembers the anguish, for joy that a human being has been born". (Jn 16:20-24) God sure has a plan that He is working out and will also carry out. "For I know the thoughts and plans that I have for you, says the Lord, thoughts and plans for welfare and peace and not evil, to give you hope in your final outcome." (Jer 29:11 AMP) Don't be too much in a hurry to judge anything now, God talks about your "final outcome". Don't let the process discourage you, focus on the final outcome! What is your final outcome? Conformity to the image of the Son (Rom 8:29) in character and power; you become mature and complete, lacking nothing (Jas 1:4); you become dependent on God not on yourself (1 Cor 1:8,9); the fulfilment of God's plans and purpose for your life (Gen 50:20); the fulfilment of God's promises to you (Jer 29:11-14); etc. I tell you, the list is endless.
To be continued....

God bless you!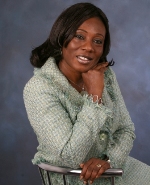 Rev. Funke Ewuosho

---------------------------------------------------------------------
Please visit our various websites for further studies, view/listen to clips of our latest messages and order products online. You can also refer your friends to our websites:

Fountain of Wisdom Ministries
Wisdom Life Training Center (Bible School)
CyberMessages
Discipling the Nations Broadcast
Wisdom E-Store
Streaming Faith Network
FOWM Podcast
Live Radio Webcast
Live TV (Video) Webcast