How then do we participate with God in this process of "Becoming"?

One: have the right attitude
"Count it all joy when you fall into various trials" (Jas 1:2). The Bible says the joy of the Lord is you strength (Neh 8:10). "Rejoice in the Lord always. Again I say, rejoice" (Php 4:4). Peter admonished the saints in Diaspora; "In this you greatly rejoice, though now for a little while, if need be, you have been grieved (or distressed) by various trials". (1 Pet 1:6) The attitude of joy is so important in this process: "Therefore with joy you will draw water from the wells of salvation". (Is 12:3) Someone actually said, if the devil can't steal your joy, he can't keep your goods. Whatever he has stolen from you will be restored seven times! You also need to maintain an attitude of faith in your process. "Count it all joy… Knowing that the testing of your faith produces patience" (Jas 1:2,3). It is actually what you know that produces joy! "Whom having not seen you love. Though now you do not seen Him, yet believing, you rejoice with joy inexpressible and full of glory," (1 Pet 1:8). What you know is what produces the inner strength in you (Dan 11:32) Job said "For I know that my Redeemer lives, and He shall stand at last on the earth; and after my skin is destroyed, this I know, that in my flesh I shall see God, whom I shall see for myself, and my eyes shall behold, and not another. How my heart yearns within me!" (Job 19:25-27) What faith! The Psalmist said he would have lost heart if he hadn't believed he would see the goodness of the LORD in the land of the living. (Ps 27:13) Don't bury your head in the sand of your trials, look up! "Therefore do not cast away your confidence, which has great reward." (Heb 10:35)

You also need an attitude of meekness and humility. God resists the proud but gives grace to the humble. (Jas 4:6, 1 Pet 5:5) Meekness is teachableness; it is also strength under control. The meek shall inherit the earth (Matt 5:5, Ps 37:11). The meek shall eat and be satisfied; they shall praise the LORD and seek Him. (Ps 22:26) God will teach the meek His way (Ps 25:9) - no wonder He made His ways known unto Moses! (Num 12:3, Ps 103:7). The LORD lifts up the meek (Ps 147:6). Jesus said He is meek and lowly in heart (Mt 11:29). "God blesses those who realise their need for Him, for the Kingdom of Heaven is given to them" (Mt 5:3 NLT).

You also need a positive attitude, "That is why we never give up. Though our bodies are dying, our spirits are being renewed everyday. For our present troubles are quite small and won't last very long. Yet they produce for us an immeasurably great glory that will last forever!" (2 Cor 4:16,17 NLT). In other words, the gains outweigh and outlive the pains!

Two: Have the right focus
Your focus will determine your endurance level. A lot of folks quit because of a wrong focus. "While we do not look at the things which are seen but at the things which are not seen. For the things which are seen are temporary, but the things which are not seen are eternal". (2 Cor 4:18) We can focus on the Word of God; the Bible says, "the worlds were framed by the word of God, so that the things which are seen were not made of things which are visible". (Heb 11:3): We can focus on Jesus; "and let us run with endurance the race which is set before us, looking unto Jesus, the author and finisher of our faith…" (Heb 12:1,2). We can focus on what we are becoming; "But we all, with unveiled face, beholding as in a mirror the glory of the LORD, are being transformed into the same image form glory to glory, just as by the Spirit of the Lord". (2 Cor 3:18) We can focus on the promises; "have been given to us exceedingly great and precious promises, that through these you may be partakers of the divine nature, having escaped the corruption that is in the world through lust." (2 Pet 1:4) Hope is produced in us when we focus on the promises of God which also acts as an anchor of the soul (Heb 6:19). Hope also purifies us as God Himself is pure (1 Jn 3:3). It seems to me it was that kind of hope that kept Joseph from sleeping with Potiphar's wife. He would have derailed his destiny, like Reuben (Gen 49:1-4). "Therefore, since a promise remains of entering His rest, let us fear, lest any of you seem to have come short of it" (Heb 4:1). Thank God we could come boldly to the throne of grace and obtain mercy if we ever miss it! (Heb 4:16)

Three: We must have the right motive
Motive has to do with Why? It has to do with the state of our hearts. It is the unseen force that drives what we do and say. God told Samuel not to look at Eliab's outward appearance because He looks at the heart. "Don't judge by his appearance or height, for I have rejected him. The LORD doesn't make decisions the way you do! People judge by outward appearance, but the LORD looks at a person's thoughts and intentions." (1 Sam 16:7 NLT). Moses killed an Egyptian in defence of a fellow Israelite, "for he supposed that his brethren would have understood that God would deliver them by his hand, but they did not understand" (Acts 7:24,25). Though Moses had a genuine call, God still had to purify his motive. He had to flee from Egypt and for forty years, he was in the wilderness before God called him to go deliver His people. Joseph interpreted the dream of the Butler and said to him "But remember me when it is well with you and please show kindness to me, make mention of me to Pharaoh, and get me out of this house" (Gen 40:14). Joseph spent two more years in the prison. The Butler completely forgot about him until Pharaoh had a dream. I call that divine! We get disappointed because we do things out of wrong motives. "Let nothing be done through selfish ambition or conceit, but in lowliness of mind let each esteem others better than himself." (Php 2:3) God wants to purify our motives. "He is like a refiner's fire and like launderers' soap. "He will sit as a refiner and a purifier of silver, He will purify the sons of Levi, and purge them as gold and silver, that they may offer to the LORD an offering in righteousness" (Mal 3:2,3).

There is a lot that God wants to do through us but then a lot more in us! Jesus spent 30 years preparing for His earthly ministry and only about 3 years fulfilling it. He did His Father's will and finished His work! "If the axe is dull and one does not sharpen the edge, then he must use more strength, but wisdom brings success." (Eccl 10:10) That is, Wisdom is a successful advantage! The whole creation is still waiting for the manifestation of the (mature) Sons of God. (Rom 8:19) "For unto us a child is born, unto us a Son is given" (Is 9:6).

God bless you!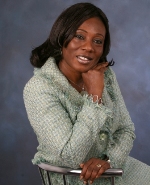 Rev. Funke Ewuosho

---------------------------------------------------------------------
Please visit our various websites for further studies, view/listen to clips of our latest messages and order products online. You can also refer your friends to our websites:

Fountain of Wisdom Ministries
Wisdom Life Training Center (Bible School)
CyberMessages
Discipling the Nations Broadcast
Wisdom E-Store
Streaming Faith Network
FOWM Podcast
Live Radio Webcast
Live TV (Video) Webcast